Pop smoke braids are among the top trending braided hairstyles of 2021.

Named after the late rapper who passed on in February, Pop smoke braids are Cornrow stitch in braids which are usually braided in groups of 4 on each side of the head using the stitch in method.

Depending on your desired size, Pop smoke braids can be done using the feed in method where more hair is fed in while braiding the hair to give it a thick appearance.
They can also be done using another method where the same amount of hair is used throughout the length of the braid.
While the pop smoke braids aren't a new braided hairstyle, they're often confused for the Fulani/tribal braids where a similar style of braiding and parting is used.

Black Beauty Bombshells is a participant in the Amazon Services LLC Associates program. At no additional cost to you. We earn a small commission on qualifying purchases.
In this article we'll feature different pop smoke braids hairstyles from pop smoke braids with beads to pop smoke braids for kids.

We'll also feature 40 pop smoke braids ideas which are perfect even for short hair.
Pop smoke braids tutorial
Pop smoke braids are easy to do if you're already familiar with the techniques used.

For this hairstyle, Xpression braiding hair is preferred and the price can go as high as $150 depending on your desired length and size.
Start by washing the hair, deep conditioning and blow drying it.

While it's possible to get your hair braided without applying heat, the pop smoke braids done using the stitch in method tend to look more neat if the hair is blow dried pre braiding.
After blow drying/straightening it, the hair is sectioned into two parts by parting it at the middle.

The sectioned parts are then further divided into 4 parts on each side.

Edge control is then used to sleek down the baby hairs and gel to ensure that the parts look extra neat.
The braiding hair is then gradually fed into the hair making the braid thicker as you move along.
This part is optional.
If you'd like to have the same size of braids from start to finish, use the same amount of hair and skip the feed in method.

For a step by step detailed visual, check out the video linked below.
How to do Pop smoke braids on yourself
If you're one of those people who can easily braid their own hair regardless of the hairstyle aka God's favorite, here's how you can do pop smoke braids on yourself.
40 Pop smoke braids hairstyles
1) Pop smoke braids with beads
Adding beads to your braids is one of the easiest ways of taking them from basic to wow.

Add different beads at the ends of your braids to give them an extra pop.
Pop smoke braids for kids
Pop smoke braids can also be rocked by kids. Use different beads or strings to accessorize the braids.
Pop smoke braids
From jumbo pop smoke braids to pop smoke braids with curly ends.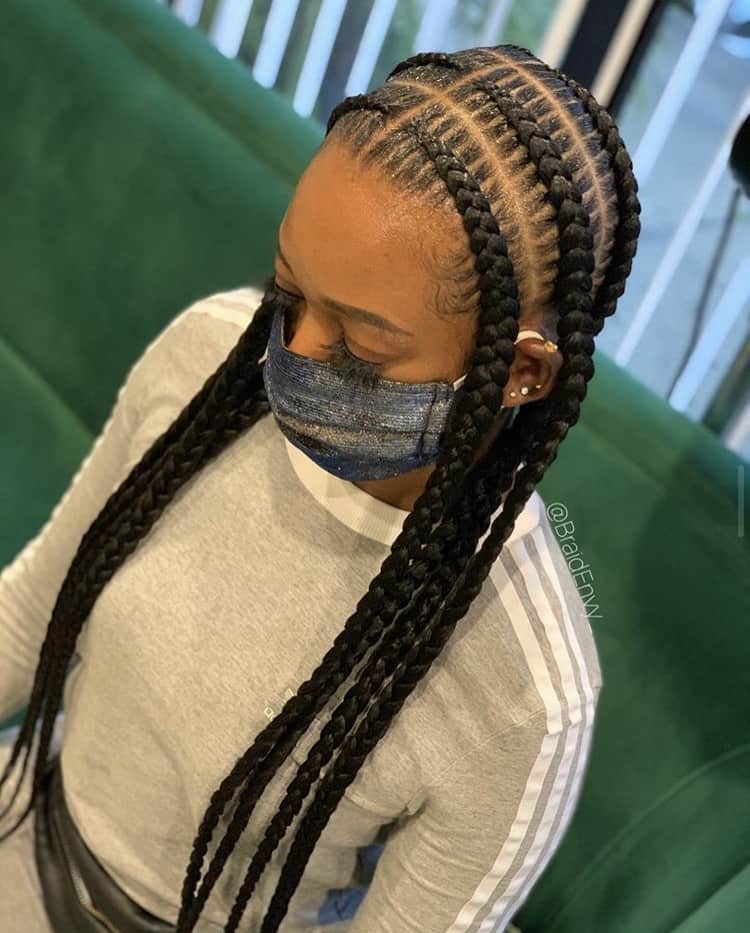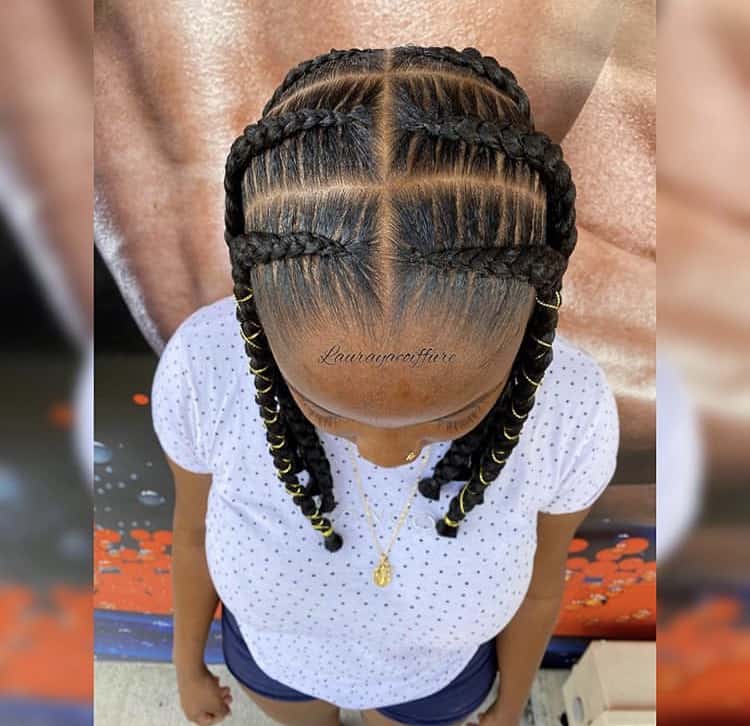 Check out more braided hairstyles on our Pinterest page.
Follow Us