Simple and Easy Natural Hairstyles for Black Women & Girls
The natural hair movement is one that seems to have taken over the Black hair community by storm.

After years of harsh treatments and chemicals in a bid to get the much desired bone straight and silky hair, a lot of black women and girls are now rocking their natural hair with confidence.

The natural hair movement has seen the birth of a lot of natural hair companies and products all tailor made to fit different hair types and textures.

Sitting on over 25.7 million hashtags on Instagram under #naturalhair and over 400,000 posts under #naturalhairproducts, this movement doesn't seem like it will be dying down anytime soon.
Whether you're a fan of company made natural hair products or you prefer to mix different natural ingredients to come up with the perfect concoction for your regimen, natural hair being hard to style is a thing of the past.

Unlike relaxed hair– which in it's straight form has limited styling options- natural hair is very versatile.

Regardless of whether you have thick kinky hair, curly hair, 4b or 4c natural hair, your natural hair styling options are limitless.
In this article, we'll take a look at 40 simple and easy natural hairstyles for black women.
Afro Hairstyles on Natural Hair
There's nothing as beautiful as a big puffy afro hairstyle in it's natural form.

This hairstyle is easy to achieve regardless of your hair type or texture.
Moisturize your hair and fluff it using your fingers or wide tooth comb to add volume.

The bigger the fro the better it will look.

Worry not if you're still in the early stages of your natural hair journey and you have a twa (teeny weeny Afro). Teeny weeny afros are equally as pretty.
1)
2)
3)
4)
5)
6)
7)
8)
Natural Hair Puff Hairstyles
If you're in a hurry or you're having a lazy natural hair day, throw your hair in a puff.

Simply comb your hair, apply leave in conditioner and use gell to sleek it down.

Tie a scarf around your head for some minutes to achieve a perfectly sleeked down look.

Lay your edges using your preferred edge control and secure it at the top of your head in a puff or create two puffs on each side.
9)
10)
11)
12)
13)
14)
15)
16)
Space Bun Hairstyles on Natural Hair
Space buns are also easy, quick and can be styled differently.
Simply section your hair into different parts and tie it in a bun at the sides of your head.

Depending on the length and volume of your hair, space buns can be done in three parts too.

Use Bobby pins or different colored hair pins to style your hair or secure the stubborn shorter parts of your hair when sleeking it down.
17)
18)
19)
20)
21)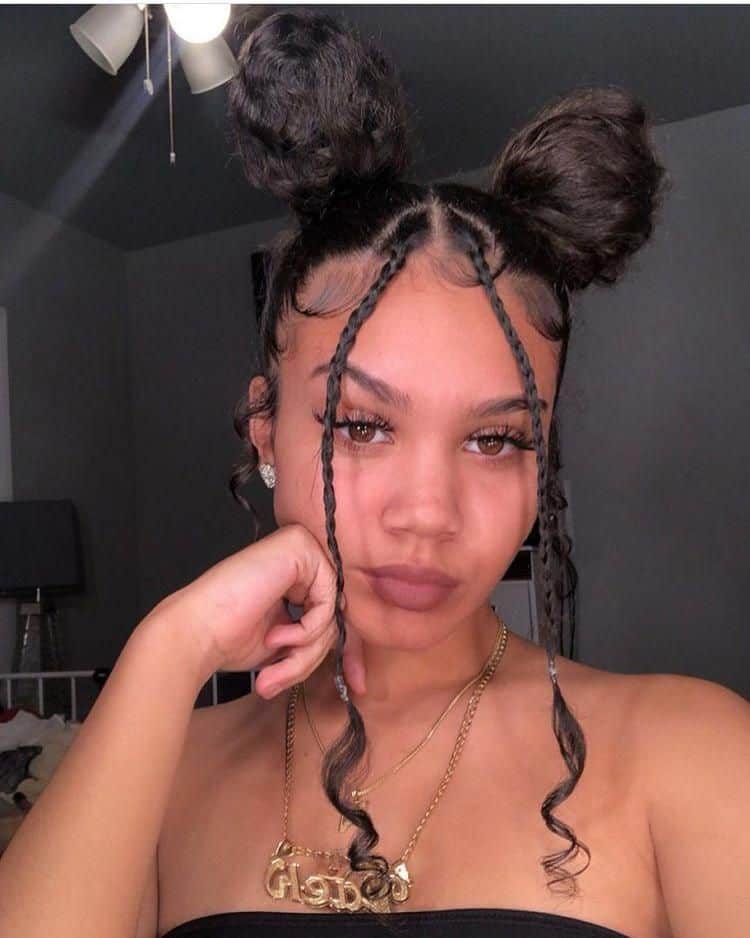 22)
Silk Press on Natural Hair
A silk press is a method used to achieve silk and straight hair through application of heat.
While too much heat on natural hair can cause damage, use of a heat protectant serum as well other products can prevent this from happening.

A silk press allows you to rock your hair in it's straightened form without having to relax it.

Ensure that you avoid getting too many silk presses throughout the year.

As mentioned earlier, continuous application of too much heat to your natural hair can cause serious damage.

Check out 30 more silk press results as well as a step by step how to silk press procedure on different hair textures in this article.
23)
24)
25)
26)
27)
28)
29)
30)
31)
32)
Twist Outs on Natural Hair
Twist outs are achieved via washing your hair with a shampoo, deep conditioning it, using shea butter, a curling butter and other desired products.

The hair is then sectioned and twisted using the 2 strand or 3 strand twist method.
The twisted hair is then left overnight and unraveled the following day.
The result is usually a beautiful twist out which varies depending on your hair texture and products used.
The longer you leave your twists in, the better it tends to look. Use of curling butters that are suitable for your hair type also contribute to the end result.
33)
34)
35)
36)
37)
38)
39)
40)
If you have short hair, check out our 50 Short Natural Hairstyles & haircuts for Black Women article.

Follow our natural hair board on our Pinterest page for more natural hairstyle ideas and video tutorials of how to get the perfect twist out, braid out or silk press.
Follow Us