50 Short Haircut & Hairstyle Ideas for Black Women
Are you tired of the hassle that comes with maintaining long hair?

Or maybe you haven't decided whether you want long or short hair?

Perhaps you've made up your mind but you aren't quite sure where to start, which style to go for or whether it will be a good fit for you.

Well worry no more.

We did a round up of 50 different short haircuts and hairstyles for black women suitable for different hair textures.
Short haircuts & hairstyles
From Teeny Weeny Afros, and fresh fades, to finger waves, these short haircuts & hairstyles will inspire your next big chop.
Tapered Haircuts For Black Women
If you're going for a short natural hairstyle, a tapered haircut
is a great choice. Tapered haircuts come in different shapes and sizes and the maintenance largely depends on your hair texture. Go for either permanent or temporary hair dye for an extra pop of color/vibrance.
1)
2)
3)
4)
5)
6)
7)
8)
9)
10)
Tapered cuts maintenance tips
Just like fades, maintaining a tapered cut is largely dependent on the type of cut and the volume of hair you have left.
If you have a lot of hair at the middle, regularly wash and deep condition it.

If you want the hair at the middle to be curly, use your desired curling butter and do twist outs.

Do a shape up for your sides at home or at the salon or barber shop twice every month.
>>Check our 40 more tapered haircuts here<<
Fades |Fade Hairstyles
Fades have been popular among men for decades. Over the years, women have embraced this hairstyle by giving it their own unique twist and adding pops of color/hair dye. Referred to as a fade due to its tightly tapered cut, this haircut is a guaranteed head turner.
11)
12)
13)
14)
15)
16)
18)
19)
20)
How to maintain a fade
Now while it's not possible to control the rate at which your hair grows, there are a couple of tips you can follow to keep your fade looking fresh and neat.
Choose the right cut. Shorter cuts tend to lose that fresh look a lot more quicker especially if your hair naturally grows fast.
Avoid washing your hair too much. Washing your hair too many times strips it of it's natural oils and makes it look dry.
Use a conditioner regularly.
Depending on your cut, use a razor or your regular shaving tool to give it a shape up when your hair starts to grow out. Alternatively, you can visit your barber if this is something you don't know how to do.
Waves Hairstyle
From 360 waves to finger waves to the ultimate sea sick waves, Waves are a timeless style. Experiment with different hair colors to stand out more.
21)
22)
23)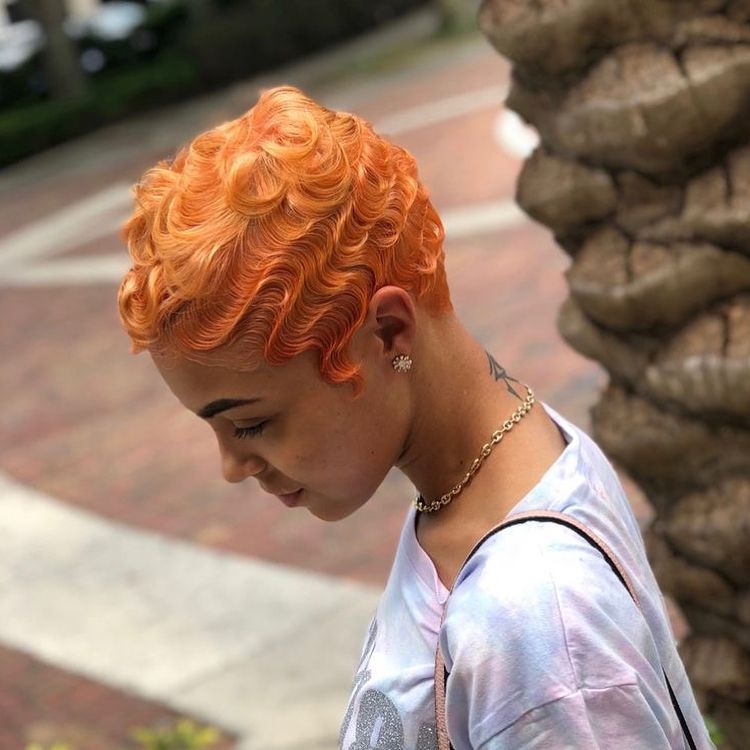 24)
25)
26)
27)
28)
29)
30)
Waves hairstyles maintenance tips
Maintaining your waves will involve regularly redoing them. Simple wet your hair and use a brush to gently brush from the crown of your head as you move away. Use a durag or a secure scarf to wrap your hair and keep your waves in place.
Bald Hairstyles
Like the name suggests, balding your hair means getting rid of all or leaving little to no hair on your head. This style is a great go to and comes with little to no maintenance costs. Whether it's a personal preference or due to health conditions, this is a great timeless and elegant look.
31)
32)
33)
34)
35)
36)
37)
38)
39)
40)
Bald hairstyles maintenance tips
While using regular soap might seem like the most logical solution on a bald head, it's not. Oil and dirt tends to build up on people with bald hairstyles causing flakes.
Use a shampoo and conditioner to wash your hair and massage the right oils on your scalp regularly.
Twa's | Teeny Weeny Afros
A teeny weeny afro, commonly referred to as a twa is the much smaller version of an afro/ an afro in its early stages of growth. From a quick wash and go to stunning finger coils, this low manipulation style will be perfect for you.
41)
42)
43)
44)
45)
46)
47)
48)
49)
50)
Twa maintenance tips:
Avoid using too much heat on your hair.
Shampoo and deep condition your hair regularly.
Use products that are suitable for your hair texture.
Use silk bonnets or scarves when sleeping at night.
Check out our Pinterest page for more of these short hairstyles.
Follow Us