The evolution of braids is one that has seen a crop of braided hairstyles that are a result of pure genius techniques.

From being used by our ancestors to weave escape maps during slavery, to evolving into shapes that are a work of divine symmetry.

Right down to creating new hairstyles such as passion twists as a whole, the creativity that Black stylists are always exhibiting cannot be overstated.
In today's article, we'll take a look at the new loc faux locs texture in town, bohemian distressed locs aka love locs/fairie locs.
We'll cover details such as how to achieve the distressed bohemian locs look, type of hair used and maintenance.
In simpler terms, distressed bohemian locs are the slightly tame/less messy version of butterfly locs.
Before we get into the tutorials, let's answer some frequently asked questions.
What are bohemian distressed locs?
Bohemian distressed locs/messy locs are the lovechild of faux locs wrapped with a mix of different textured braiding hair to give it a distressed look.
How long do bohemian distressed locs last?
Bohemian distressed locs can last for up to 3 months if you take care of them well.
How much do bohemian distressed locs cost?
If you're getting your hair done by a professional stylist, bohemian distressed locs can cost you up to $400 for a waist length look. If you DIY them, you'll only need $80 to $100 for the complete look.
What kind of hair do you use for messy locs?
Depending on your desired length and exact look, a mixture of bobbi nu locs wrapped with water wave hair, marley hair or spring twists is used.
Black Beauty Bombshells is a participant in the Amazon Services LLC Associates program. At no additional cost to you, We earn a small commission on qualifying purchases.
How do you do distressed faux locs?
Start by sectioning stretched or blow dried hair into parts of your desired size.

Use shine n jam to sleek the roots and make your parts look neat.

Braid the sectioned hair individually and then loop in bobbi nu crotchet faux locs into the hair.
After looping the locs into your hair, take your spring twists hair, unravel it and then wrap it on the locs in opposite directions until all the hair is covered.

Use nail glue to secure the wrapped hair on your locs.
For a detailed visual, watch the video below.
Method 2
In this method, the locs are extended and have curly ends.
Just like in method one, section and braid your hair into individual parts.
Take your crotchet latch hook and loop in the free tress natural wavy twists hair.

Ensure that both sides are even and then take the free tress deep twist hair and loop it in at the bottom of the free tress natural wavy twist hair on both sides.

After you're done with that, take the free tress bohemian braid, unravel it and wrap it around your locs until all the hair is covered.

Use nail glue to secure the wrapped hair and the locs. Find a detailed visual in the video below.
Regardless of the method you choose, Marley hair, Freetress bohemian braids or Freetress water wave hair can be used to wrap the locs.
Distressed locs pros
Faux locs of any kind are a low manipulation hairstyle and they promote hair growth since they allow your hair to remain undisturbed.

Distressed locs as the name suggests have a messy like appearance. The longer you keep them in, the better they'll look.
3. You get to rock an imitated version of dreadlocks minus the commitment and permanent nature.
4. Distressed locs are low maintenance.
Bohemian distressed/messy locs maintenance
For maintenance:
Wrap your hair in a

silk bonnet

or scarf at night.
Clean your scalp using a

dry shampoo

and a cotton ball or piece of cloth.
Use an

anti itch scalp oil

.
20 Bohemian distressed/messy locs hairstyles
1) Bob bohemian distressed locs
2) Long distressed bohemian locs
3) Bob distressed locs
4) Distressed locs updo
5) Extended locs
6) Long boho distressed locs
7) Bob messy locs
8) Bob boho messy locs
9) Messy faux boho locs
10) Long messy locs
11) Long messy faux locs
12) Half up half down distressed locs
13) Brown distressed locs
14) Shoulder length messy locs
15) Bob messy locs
16) Brown distressed locs
17) Long messy bohemian locs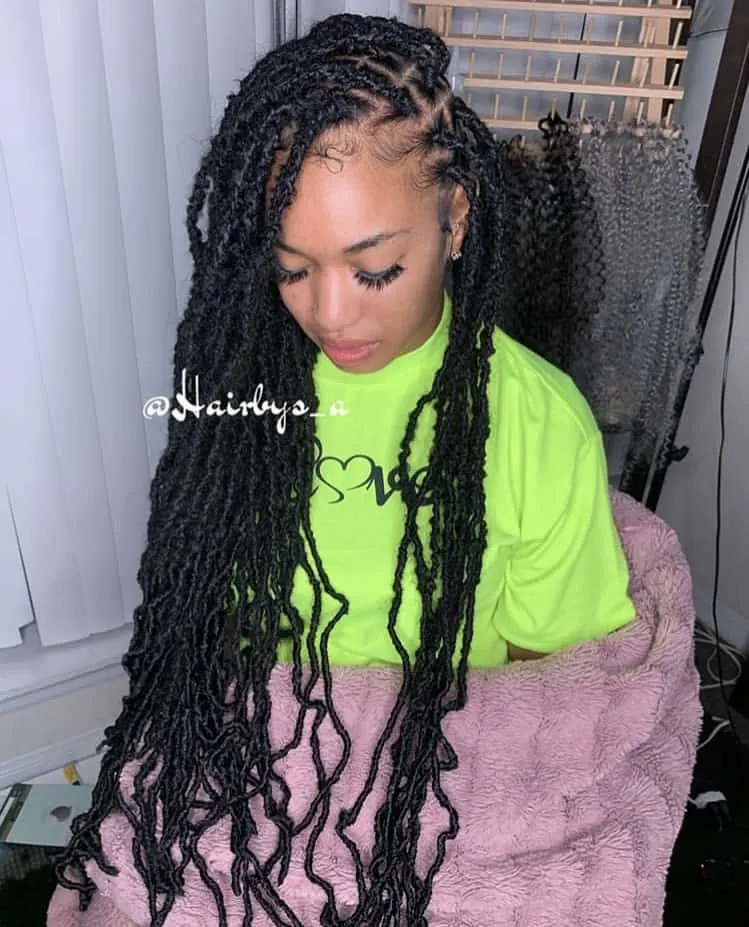 18) Extra long boho locs
19) Extra long boho distressed locs
20) Long boho messy locs
Cornrows into bohemian distressed locs
Follow the talented hair stylists whose work has been featured in this article on instagram @hairbys_a, @locssoflove, @thekainoirexperience and @akiralasha. Check out more faux and distressed bohemian locs hairstyles on our Pinterest page.