Everything you Should Know About Passion Twists featuring 15 Passion Twists Hairstyles
There seemingly is no known shortage of stunning protective hairstyles that one can rock. From Box braids, to Cornrows and even Faux & Goddess Locs, braided hairstyles are truly timeless.
Dating back to as early as 3000 BC, black creatives and hair stylists everywhere are determined to keep reinventing the wheel to ensure that different types of braids will be enjoyed by many for years to come. This is no different for Passion Twists.
Passion Twists were created and debuted by the talented Miami hairstylist Kailyn Rogers alias The BohoBabe in 2018. Kailyn debuted a tutorial of the hairstyle on her Youtube channel. The hairstyle gained traction fast and currently sits on over 250,000 uses on Instagram under #passiontwists.
Passion Twists Tutorial by the Original Creator
What are passion twists?
Passion twists are the love child of Senegalese twists and Goddess locs. They're braided using the 2 strand twist method using wavy hair to create a boho look.
How long do passion twists last?
Passion twists can last for up to 2 months with proper maintenance in place.
What hair do you use to do Passion twists?
Are passion twists bad for your hair?
No. Passion twists are a protective hairstyle. Protective hairstyles promote hair growth since the hair is left undisturbed for a period of time.
Can I go swimming in passion twists?
Yes. Passion twists are a water friendly hairstyle, simply co-wash the hair afterwards and apply some mousse.
Passion Twists Installation Methods
Passion twists can be installed manually or through the crotchet method. In the former, the hair is sectioned into small or big parts depending on your preferred size and braided using the 2 strand twist method. Edge control is used to lay the edges and bees wax to ensure that the hair blends in well with the Freetress braiding hair.
Passion Twists Crotchet Method
In the crotchet method, the hair is braided into cornrows and the ready made Freetress hair is looped into the cornrow base repeatedly until the whole head is completely covered.
15 Passion Twists Hairstyles
Passion twists come in a lot of different sizes, lengths and even colors. We hand selected some of our favorite Passion twist looks to inspire your next hairstyle.
Extra long black Passion Twists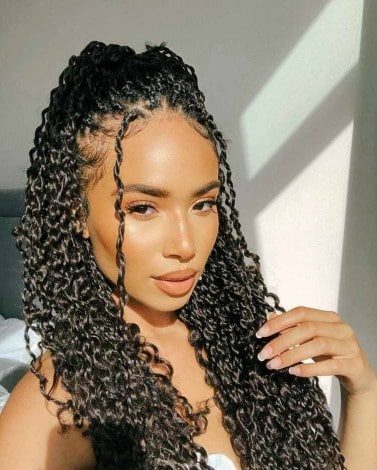 Multi tone Passion Twists
Short Passion Twists
For maintenance purposes, use a moisturizer for your scalp and mousse to keep them looking shiny and bouncy.