Everything you Should Know About Passion Twists featuring 15 Passion Twists Hairstyles
There seemingly is no known shortage of stunning protective hairstyles that one can rock. From Box braids, to Cornrows and even Faux & Goddess Locs, braided hairstyles are truly timeless.
Dating back to as early as 3000 BC, Black creatives and hair stylists everywhere are determined to keep reinventing the wheel to ensure that different types of braids will be enjoyed by many for years to come.

This is no different for Passion Twists.
Passion Twists were created and debuted by the talented Miami hairstylist Kailyn Rogers alias The BohoBabe in 2018.

Kailyn debuted a tutorial of the hairstyle on her Youtube channel.

The hairstyle gained traction fast and currently sits on over 250,000 uses on Instagram under #passiontwists.
Passion Twists Tutorial by the Original Creator
Black Beauty Bombshells is a participant in the Amazon Services LLC Associates program. At no additional cost to you. We earn a small commission on qualifying purchases.
What are passion twists?
Passion twists are the love child of Senegalese twists and Goddess locs. They're braided using the 2 strand twist method using wavy hair to create a boho look.
How long do passion twists last?
Passion twists can last for up to 2 months with proper maintenance in place.
What hair do you use to do Passion twists?
Are passion twists bad for your hair?
No. Passion twists are a protective hairstyle. Protective hairstyles promote hair growth since the hair is left undisturbed for a period of time.
Can I go swimming in passion twists?
Yes. Passion twists are a water friendly hairstyle, simply co-wash the hair afterwards and apply some mousse.
Passion Twists Installation Methods
Passion twists can be installed manually or through the crotchet method.

In both, the hair is washed, stretched or straightened and sectioned into small or big parts depending on your preferred size.

Edge control is used to lay the edges and bees wax to ensure that the hair blends in well with the Freetress braiding hair.

Lulutress water wave hair can also be used to achieve this hairstyle.

Passion twists no rubber band method

After sectioning the hair, divide it into two parts and take your freetress or lulutress hair and stretch it out.

Use your finger and run it through the hair to unravel the curls.
Hold the two sectioned parts together and use the freetress or lulutress hair to twist the hair using your own hair.
Twist the freetress or lulutress hair with your hair until you have a firmly formed twist.
Repeat the same method on the other side and then twist both parts together until you get to the bottom.

For a detailed visual, check out the video below.
Passion Twists Crotchet Method
In the crotchet method, the hair is braided into cornrows and the ready made Freetress hair is looped into the cornrow base repeatedly until the whole head is completely covered.
Passion twists rubber band method
In the rubber band method, the hair is sectioned and secured at the root using rubber bands.

To avoid breakage, rub avocado oil on the rubber bands.

Take your crotchet needle and loop the freetress or lulutress hair through the rubber band section.

Pull the looped hair on one side and twist both the freetress or lulutress hair with your own hair.

If you like the tightly twisted passion twists, twist your hair tightly all the way to the bottom.
If you prefer the loose curl pattern, use that instead.
For a detailed visual, refer to the video down below.


15 Passion Twists Hairstyles
Passion twists come in a lot of different sizes, lengths and even colors.
We hand selected some of our favorite Passion twist looks to inspire your next hairstyle.

Long black Passion Twists
The longer the passion twists, the better they'll look.

Opt for passion twists that go past your shoulders or your waist if you love long braids.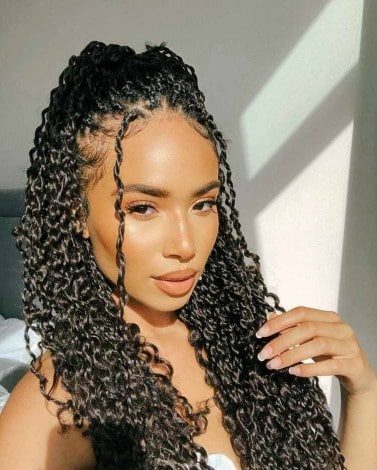 Multi tone Passion Twists
Passion twists come in different toned colors.

Multi tone passion twists can be achieved using different mixtures of freetress hair or individually colored hair.
Use a mixture of different colors in a single braid or mix them in different parts of your head.
Short Passion Twists
If you don't like long hair, opt for short passion twists and style them in a bun or let then lie freely on your shoulders.
Passion twists maintenance tips
Clean your scalp using a dry shampoo and a cloth or cotton ball. Alternatively you can also wash your hair like you would if you didn't have braids. The former is however recommend to prevent the hair from unraveling.
Use a scalp oil or an anti itch spray to avoid itching.
Limit your use of hair oils to avoid oil and dirt build up.
Redo/give your roots a touch up using a curling butter and beeswax for old passion twists to make them look neat again.
Wrap your hair in a silk scarf or bonnet at night.

Check out our Pinterest page for more passion twists hairstyles.
Follow Us